MCSS wants to make sure refugees have access to information about living in Austin specifically and in America generally.
For example, if you're wondering how to open a bank account or find food you like, ASK US.
See below for other resources.
Help with paying rent or your electric bill. CLICK HERE
Here is a place where you might get help with paying rent or your electric bill. You must go to one of the offices and fill out an application. At this link you will find a list of documents you must bring and what kind of help you may be able to get. For example, if you are going to move you might be able to get help with the first month's rent. We cannot promise that you will get money, but it is probably worth trying.
There are two offices in Austin: 1) Downtown is at the Palm Square Building, 100 N. IH 35, Suite 2000, Phone: (512) 854-4120. 2) South Austin is at 2201 Post Road, Suite 101. Phone: 854-9130.
Healthcare
Cheap furniture
Examples of commonly available items include vehicles, furniture, office equipment and supplies, small electronics, and heavy equipment.

Retail Storefront in Austin: The Austin storefront receives new property every day! In addition to state surplus vehicles, furniture, office equipment and supplies, and small electronics, the Austin storefront also sells abandoned airport property such as pocket knives, multi-purpose tools, jewelry, sunglasses, watches, luggage, and toys.

Hours: Open to the public Monday-Friday from 8:00 AM to 4:30 PM
Address: 6506 Bolm Road, Austin, TX 78721 (Map to Storefront)
Contact Us: By phone (512) 463-1990, or by email: storefront.surplus@tfc.state.tx.us
Inventory: Complete Austin inventory, including furniture & airport property, is not available online at this time. Please call to verify the availability of certain items.
Free Fans
You may be able to get a free fan if you have children younger than 18 or you are older than 55 or you are disabled. To get a fan, you must show an ID (driver's license, green card or passport) and proof of your income. Bring things like pay stubs from a job, your food stamp award letter, Lone Star card and Medicaid card.
You can get fans at these locations:
Call 512-459-4326 for more information.
https://www.summerfandrive.org/need-heat-relief/
Ambulances in Austin are not free.
Calling an ambulance is not free. Even if you can't afford it - they recommend a minimal monthly payment of $10. May be cheaper to take an uber!
http://www.austintexas.gov/…/billing-and-medical-records-fr…
As a governmental agency, Austin Travis County EMS is not able to adjust an outstanding balance and the State Constitution prohibits us from forgiving any debts that are owed.
The Legislature shall have no power to release or extinguish, or to authorize the releasing or extinguishing, in whole or in part, the indebtedness, liability or obligation of any corporation or individual, to this State or to any county or defined subdivision thereof, or other municipal corporation therein, except delinquent taxes which have been due for a period of at least ten years. (Amended Nov. 8, 1932).
Patient advocates
طرفدار بیمار
مساعد المريض
Dell Children's Medical Center of Central Texas: (512) 324-0109
Dell Seton Medical Center at The University of Texas: (512) 324-7009
Seton Edgar B. Davis Hospital: (512) 237-5727
Seton Highland Lakes Hospital: (512) 324-6655
Seton Medical Center Austin: (512) 324-1975
Seton Medical Center Hays: (512) 504-5051
Seton Medical Center Williamson: (512) 324-6655
Seton Northwest Hospital: (512) 324-6655
Seton Shoal Creek Hospital: (512) 324-2000, ext 11516
Seton Smithville Regional Hospital: (512) 237-5727
Seton Southwest Hospital: (512) 324-9001
St. David's North Austin Medical Center: 1-512-901-2537
St. David's Round Rock Medical Center: 1-512-341-5286
St. David's South Austin Medical Center: 1-512-816-7337
St. David's Georgetown Hospital: 1-512-942-4250
St. David's Medical Center: 1-512-544-4029
Heart Hospital of Austin: 1-512-544-4029
As a patient, you have the right to: ASK FOR A TRANSLATOR
أسأل عن مترجم
لطفا برای یک مترجم بخوانید
د ژباړونکي لپاره پوښتنه وکړئ
Participate in the development and implementation of your plan of care and make decisions regarding your care, including pain management.

Make informed decisions regarding your care, including being informed of your health status, being involved in your care planning and treatment, and being able to request or refuse treatment.

Formulate advance directives and to have Seton staff and practitioners who provide care in the hospital comply with these directives in accordance with the law.

Have a family member of your own choice and your own physician notified promptly of your admission to the hospital.

Personal privacy.

Receive care in a safe setting.

Be free from all forms of abuse or harassment.

Confidentiality of your clinical records in accordance with law.

Access information contained in your clinical record within a reasonable time frame.

Be free from restraints of any form that are not medically necessary or are used as a means of coercion, discipline, convenience or retaliation by staff for acute medical or surgical care.

Be free from seclusion and restraints, of any form, imposed as a means of coercion, discipline, convenience or retaliation by staff for behavioral management.

Receive reasonable access to care.

Care that is considerate and respectful of personal values and beliefs.

Participate in ethical issues that may arise in the course of your care.

Receive information about clinical experiments, research or educational projects affecting your care or treatment including the expected benefits, potential discomforts and risks and alternatives that may also be available.

Receive a reasonable response to requests for treatment or service.

Appropriate assessment and management of pain.

Have Seton use its best efforts to meet your special communication needs.

Receive upon request Seton's policies related to patient rights.

Be informed of Seton's complaint/grievance process and to voice complaints or concerns without affecting your care or treatment.

Accept or refuse medical care to the extent permitted by law, or to change your mind regarding your care.

Be informed of Seton's rules and regulations applicable to patient care and conduct.

Request and receive a detailed explanation of your bill.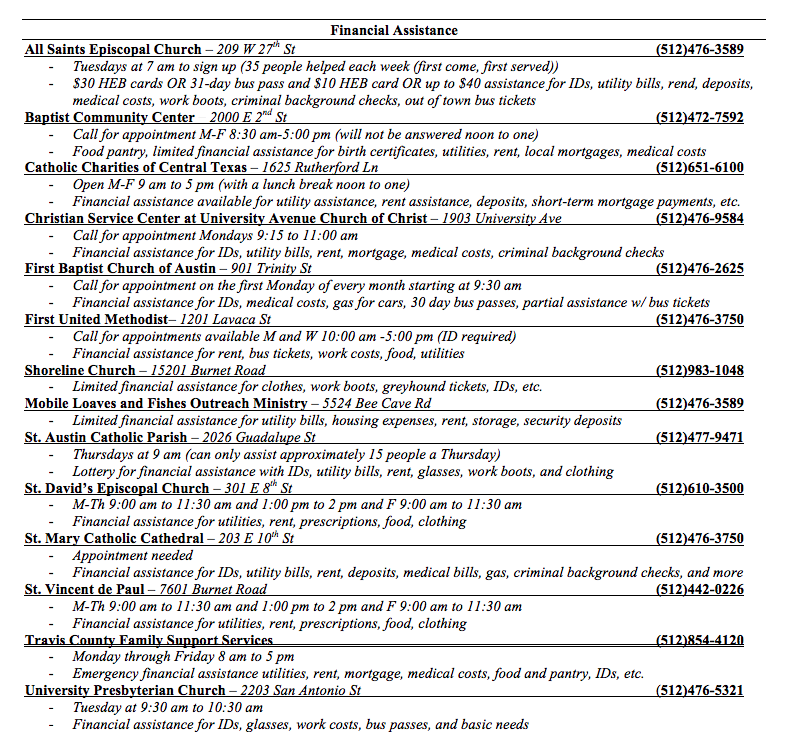 Other Institutions Helping Others where you may seek assistance
Simply Safety s a family-centered community safety store. Inside, you'll find everything from safety seats and life jackets to portable cribs and childproof locks.
The idea is to connect families to safety equipment they might otherwise be unable to afford.
Everything is priced at cost, or at a low-cost, with tax included. If Simply Safety's discounted price is still too high for a family, they may be eligible for additional financial assistance on select car seats. If a family qualifies for that extra help, the store will offer the car seat on a sliding scale.
Resources for Families and Pregnant Ladies
It is the vision of the Austin Fire Department that every home and every citizen be protected by at least one smoke alarm. We seek to implement this vision through our FREE SMOKE ALARM program which offers a free smoke alarm to any resident of Austin who is in need. The only prerequisites are that the citizen reside in a privately-owned home and have a genuine need for our assistance.
To participate in this program please call our FREE SMOKE ALARM HOTLINE at (512) 974-0299. Please leave your name, address, and phone number and your call will be returned to schedule your FREE installation.
Free Home Hazards Assessment
You may also request a FREE HOME HAZARD ASSESSMENT. The assessment will be performed by the Firefighters after installing the free smoke alarm. You may also opt to follow the HOME HAZARD CHECKLIST provided and perform the assessment yourself.
Important Numbers:
(512) 974-0299 -- Free Smoke Alarm Hotline
(512) 974-0290 -- Public Education Main Line